IT assets management: optimising flows
Optimise your IT material flows and make life easier for your employees and IT teams with a connected concierge solution.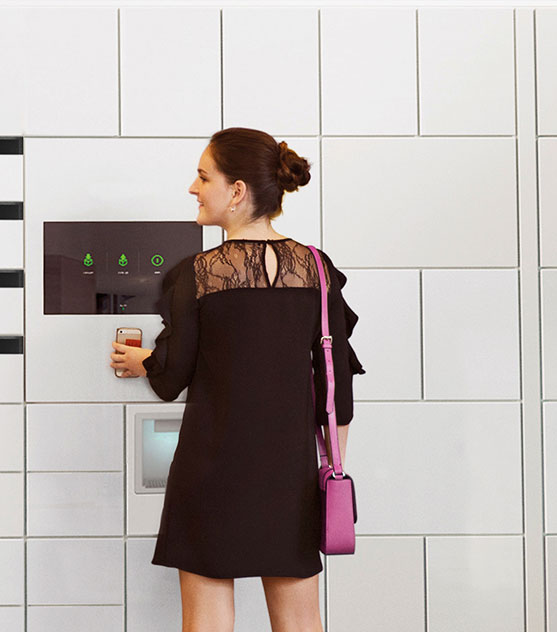 Requests related to workstations and peripherals are among the most common ones. Whether it is a question of retrieving, dropping off or borrowing equipment, this often requires an appointment with Support. As a result, users do not have an immediate solution and Support has less time to deal with more complex requests. Our solution to this issue: connected lockers! 
3 reasons to choose connected lockers

 
Improving the

employees'

efficiency 
With our connected lockers, no need to make appointments or wait in the IT lounge to pick up or drop off equipment. Our 24/7 self-service solution helps to modernize the user experience and improve employee efficiency. Your users gain: 
Autonomy: they are no longer dependent on the availability of support

 

Flexibility: they are no longer dependent on the IT department's opening hours

 

Productivity: they are operational immediately

 
Optimized

and secure management of material flows
Manual management of IT equipment is time-consuming and burdensome for Support. Traceability is also complex, and security is compromised. Our connected lockers allow you to: 
Automate the management of your IT assets

 

Deploy or return hardware more easily for onboarding and offboarding processes

 

Keep an overview of all IT assets in your organization

 

Know immediately who borrowed what and when

 

Secure the working environment and company resources

 

Offer services over extended time periods

 

Build up a 'contingency' stock to respond immediately to critical needs

 
Multiple use cases
The usefulness of connected lockers is not limited to IT, quite the contrary! This solution can also be used to solve other problems in your company. For example, you can use them to: 
Manage business mail and parcels, with the possibility of extending this service for private use,

 

Offer a cloakroom 2.0 to your employees whose job requires, for example, the wearing of a uniform or the use of specific equipment

 

Temporarily store the personal belongings of your visitors (customers, partners, suppliers, etc.).

 
Depending on your activity, you can also deploy these lockers in the public space to make all types of resources available to your targets.